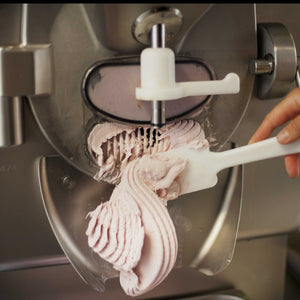 NOTE: Ice cream courses can also be bought as a gift card under "gift cards" in the webshop.
About this course
This ice cream course is for anyone who has some experience with cooking and maybe already have tried making ice cream at home. We will get in depth with some of the science behind creating the ideal ice cream structure and how different ingredients affect the structure.
We will produce 4 different ice creams/sorbets from scratch and compare taste and texture. The sensorical experience will be connected to the theory and we learn how to calculate recipes.
The focus of this course is milk/cream based ice creams, but we will also talk about vegan ice creams.
Cathrine Østerberg is teaching the course and the duration is 3 hours.
Note that the courses are either held in Danish or English on the address: Rosenvængets Allé 7B in Østerbro, Copenhagen.
If you would like to use a gift card as payment, send us an e-mail at icecream@osterberg.dk with information about which date you want to participate on our ice cream course.