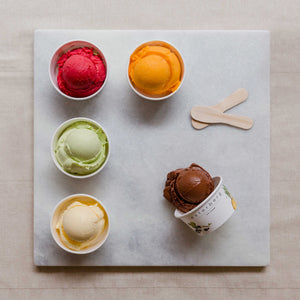 Note: Ice cream courses can also be bought as a gift card under "gift cards" in the webshop.
About this course
Everyone who wants to learn how to produce their own ice creams and sorbets can participate in this course. We will go though the basic ice cream science and how different ingredients affect the ice creams and sorbets.
We will produce 2 types of ice creams and 2 types of sorbets from scratch. We will freeze the ice cream on small household ice cream machines. To be able to compare different textures we will also freeze some portions in a batch freezer. During the course, we will taste the ice creams, and you can bring home any leftovers.
You will get a small recipe book.
The duration of the ice cream course is 3 hours.
Note that the course is either taught in Danish or English by one of our talented food science graduates.
For ice cream courses taught by Cathrine Østerberg, we refer to our advanced courses.